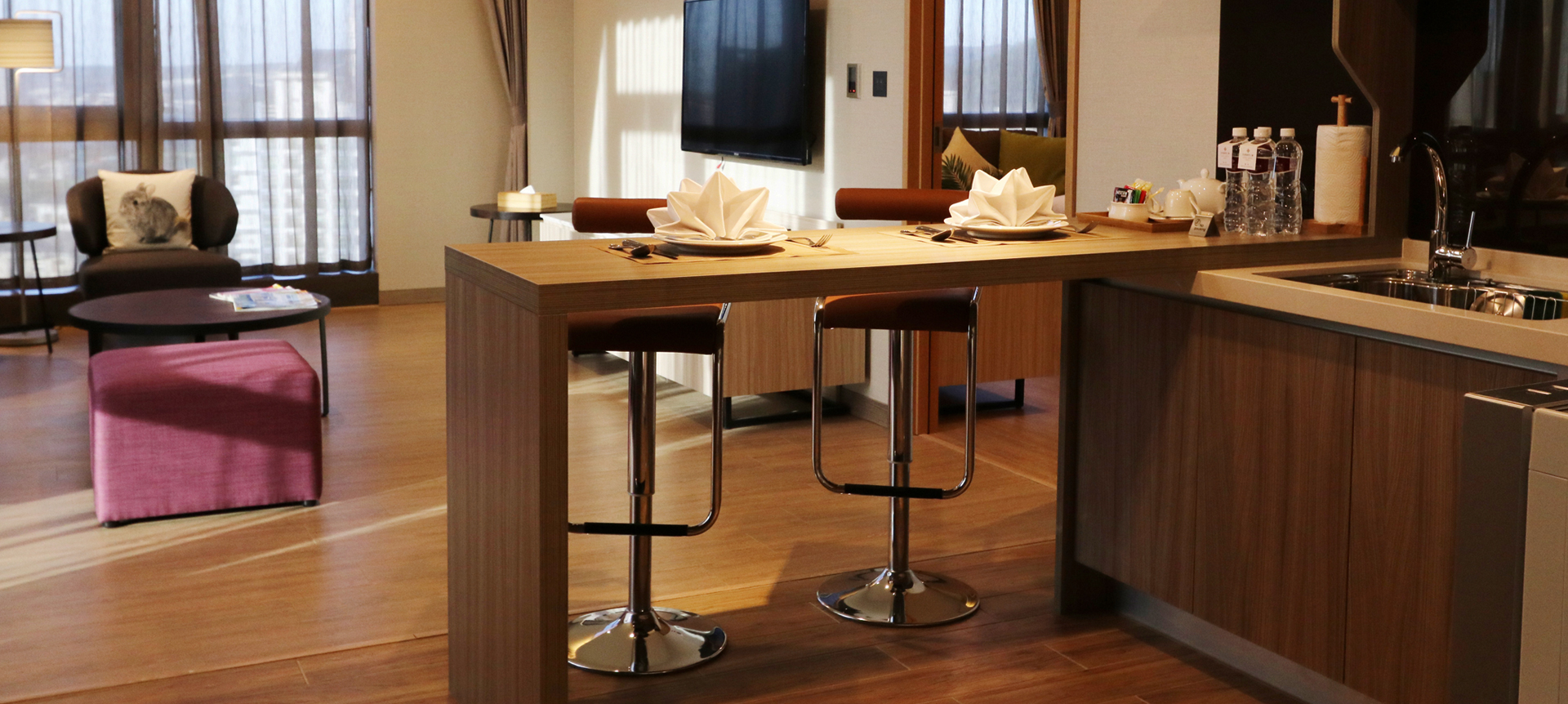 ---
Rooms
客房介紹
The cruise liner look with a hi-tech vibe, AJ HOTEL has all the makings of a brand new landmark of Hsinchu thanks to its majestic appearance. With smart butler service at your fingertips, independent, spacious living room and the comfort of bathtub and automated bidet toilet standard for every accommodation, you get to live the life style of social elites, , savoring the exuberance of life.
The hotel has 4 types of accommodation, ranging from Standard Double, Deluxe Double, Apartment Suite and Presidential Suite. All hotel guests have access to gym and SPA (reservation required) on premise, complimentary of charge. Also, we hold irregularly scheduled events in the hotel exhibition hall for our guests to experience the culture and arts of Hsinchu without venturing outside. All our staff has gone through rigorous and complete professional training so as to ensure that our guests enjoy home-like ambiance when staying with AJ Hotel.
---
Room Type
Room Size
Class
Room Type (in detail)
Elaboration
Rates/day(NT$)
AStandard Double
9-10 Ping
A1
Standard Double
One Queen Size Bed
NT.$5,500
A2
AJ Standard Double
Two Single Beds
A3
AJ Triple
One Queen Size Bed + One Single Bed
NT.$6,600
A4
AJ Quadruple
Two Queen Size Beds
NT.$7,700
BDeluxe Double
13-14 Ping
B1
Deluxe Double
One Queen Size Bed
NT.$6,800
B2
Standard Deluxe Double (for 3)
Two Single Beds
B3
Business Deluxe Double (for 4)
Two Queen Size Beds
NT.$8,900
CApartment Suite
19-20 Ping
C1
Standard
One Bedroom (1 room of queen size bed, living room & kitchen)
NT.$8,600
C2
Business
Living room, full kitchen and 1 room of queen size bed
DPresidential Suite
27-28 Ping
D2
Forrest Presidential Suite (H+B+O)
One Bedroom and Studio
(1 room of king size bed, living room & kitchen and studio)
NT.$13,750
D4
CEO Suite
Two Bedroom
(1 room of king size bed, 2 room of single bed and living room & kitchen)
LCD TV
Complimentary broadband Internet connection
Bath Tub
Full Set of Kitchenware and home appliance (applicable to certain room types only)
Full Set of premium toiletries
Refrigerator
Electric Iron and ironing board (applicable to certain room types only)
Safe deposit box
Electric kettle
Handicap-access Complimentary room
Mineral water (bottle), coffee and tea bags
Baby crib (applicable to certain room types only, reservation required)
Check-in :Holiday-after 4 pm ; Weekdays-after 3 pm
Check-out : before 12 pm;
Certain room type allows accommodation with additional charge of $1,100, up to one extra guest per room, including breakfast ;
AJ Hotel is smoke-complimentary;
Room rates and furnishings are subject to change without further notice;
Complimentary access to gym and spa for hotel guests (reservation required);complimentary
No pets allowed on premise, with the exception of eye-seeing dog for visually impaired;
Room type photos are for reference only; room condition shall be based on the actual circumstances of the room at the time of check-in.